It's heavy—depression. I mean, it weighs you down. And in February 2022, U.S. Census Bureau data showed that nearly one-third of Americans were grappling with symptoms of it.
May's about mental health, and we're on a mission to bust stigma through spreading awareness. And today, we're taking a closer look at depression. Below are sixteen powerful quotes that portray living with the condition.
Trigger warning: These quotes touch on the topic of suicide.
Quote 1: You say you're 'depressed' — all I see is resilience. You are allowed to feel messed up and inside out. It doesn't mean you're defective — it just means you're human. – David Mitchell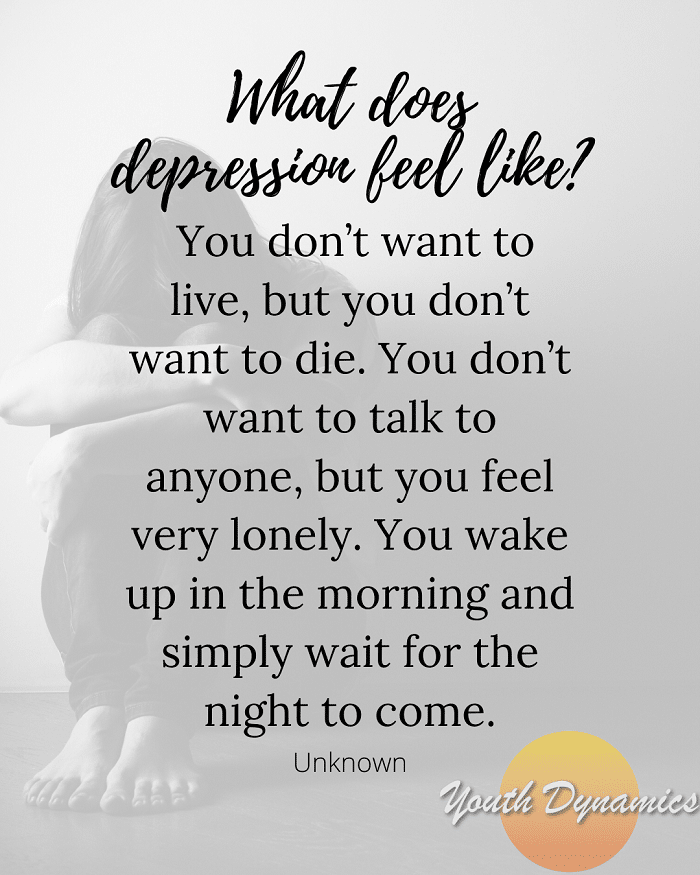 Quote 2: What does depression feel like? You don't want to live, but you don't want to die. You don't want to talk to anyone, but you feel very lonely. You wake up in the morning and simply wait for the night to come. – Unknown
Quote 3: And something inside me just broke. That's the only way I could describe it. – Ranata Suzuki
Quote 4: Depression is such a cruel punishment. There are no fevers, no rashes, no blood tests to send people scurrying in concern, just the slow erosion of self, as insidious as cancer. And like cancer, it is essentially a solitary experience, a room in hell with only your name on the door. – Unknown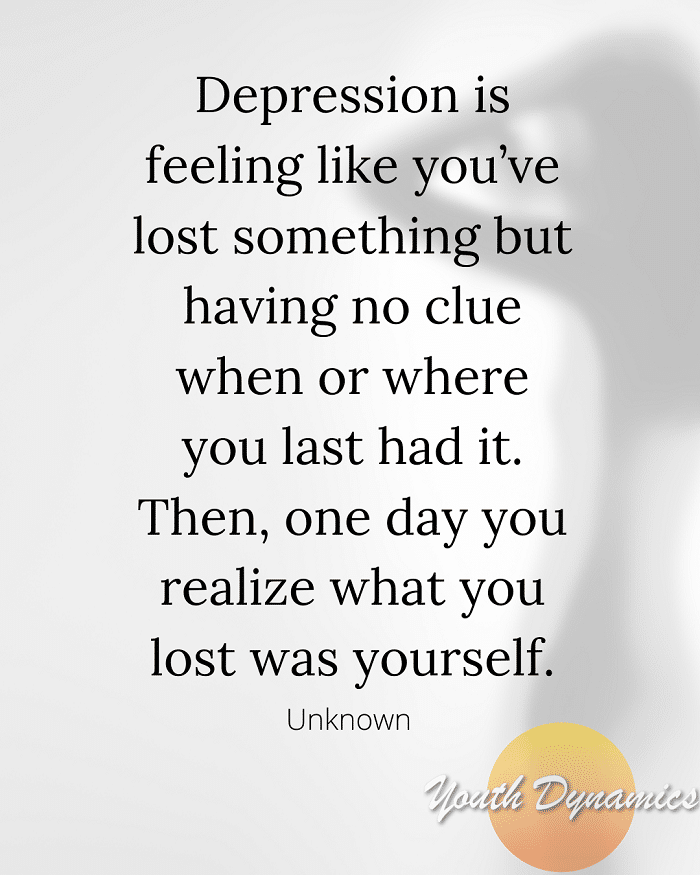 Quote 5: Depression is feeling like you've lost something but having no clue when or where you last had it. Then, one day you realize what you lost was yourself. – Unknown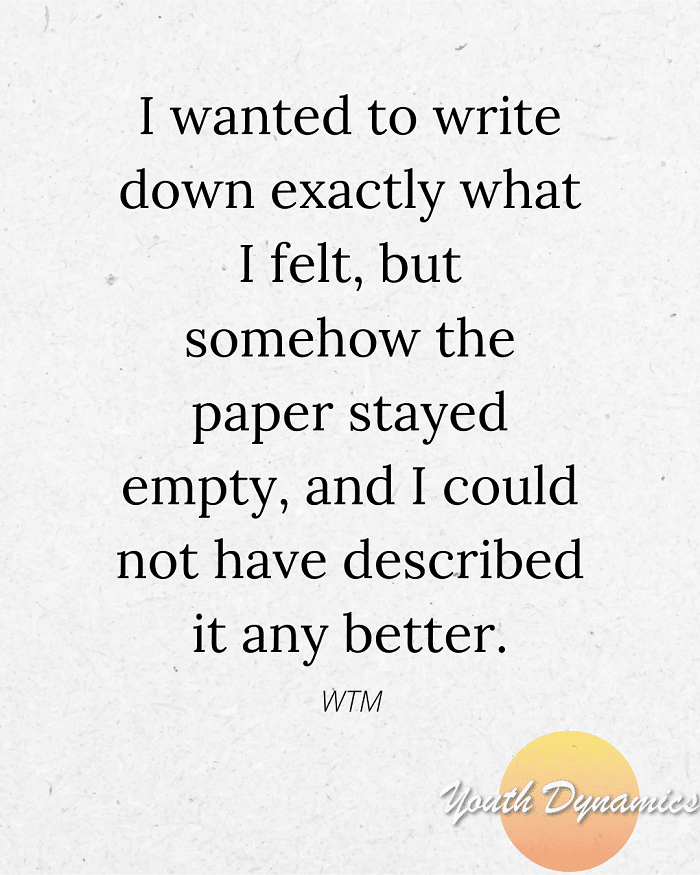 Quote 6: I wanted to write down exactly what I felt, but somehow the paper stayed empty, and I could not have described it any better. – WTM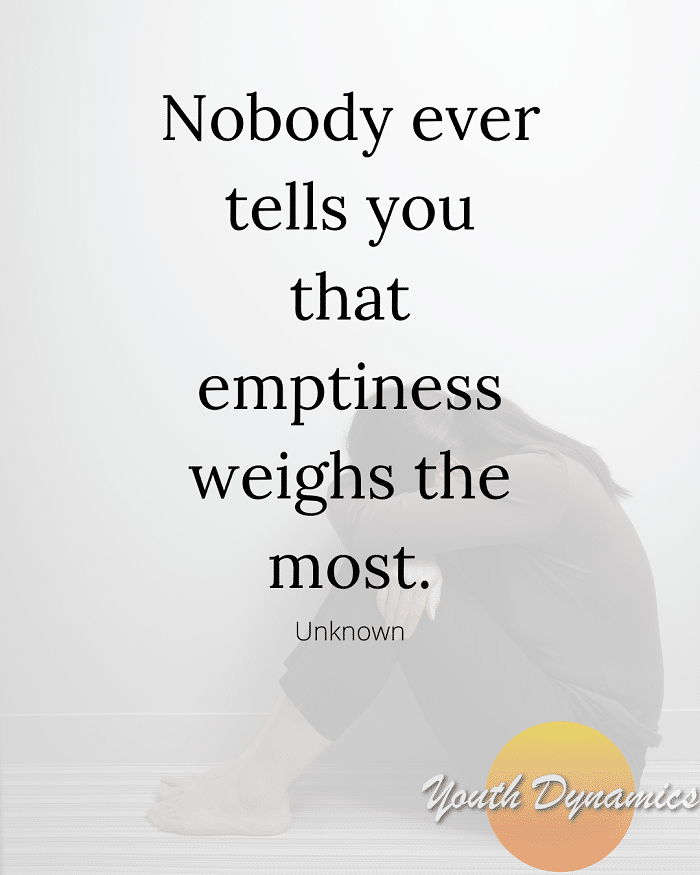 Quote 7: Nobody ever tells you that emptiness weighs the most. – Unknown
Quote 8: I don't feel sad. I don't feel anything. – Unknown
Quote 9: Depression is a lot like drowning, except that you can see everyone else around you breathing. – Unknown
Quote 10: I think I'm afraid to be happy because whenever I get too happy, something bad always happens. – Unknown
Quote 11: Nothing is more depressing than having everything and still feeling really sad. – Unknown
Quote 12: Depression is a prison where you are both the suffering prisoner and the cruel jailer. – Dorothy Rowe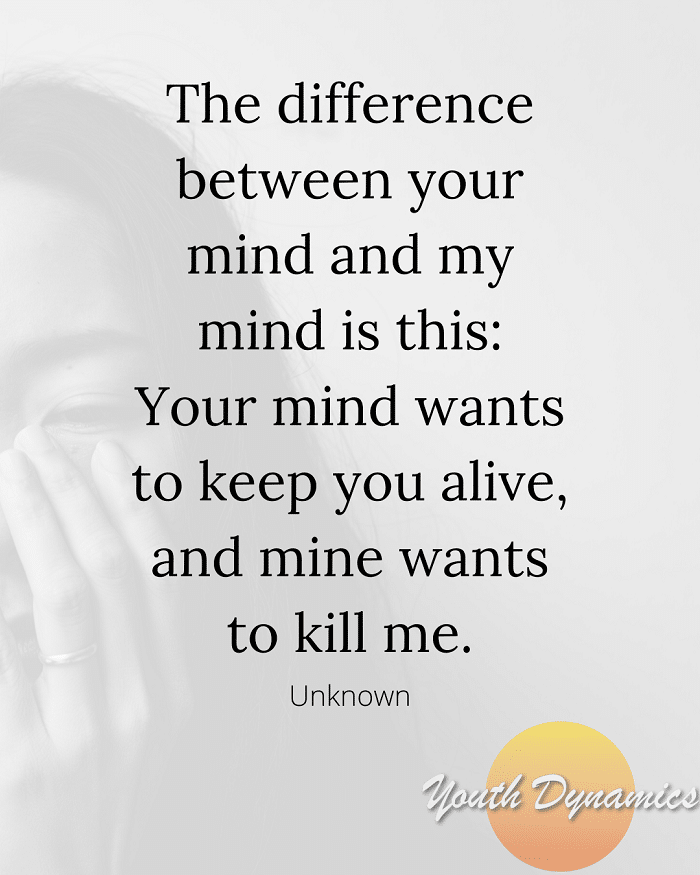 Quote 13: The difference between your mind and my mind is this: Your mind wants to keep you alive, and mine wants to kill me. – Unknown
Quote 14: What's wrong? I'm ugly. I'm fat. I'm a failure. I'm depressed. I'm suffering. I hate this world. I hate myself. I'm imperfect. I can't do anything right. I'm disgusting. I'm just not okay. Nothing, I'm fine. – Unknown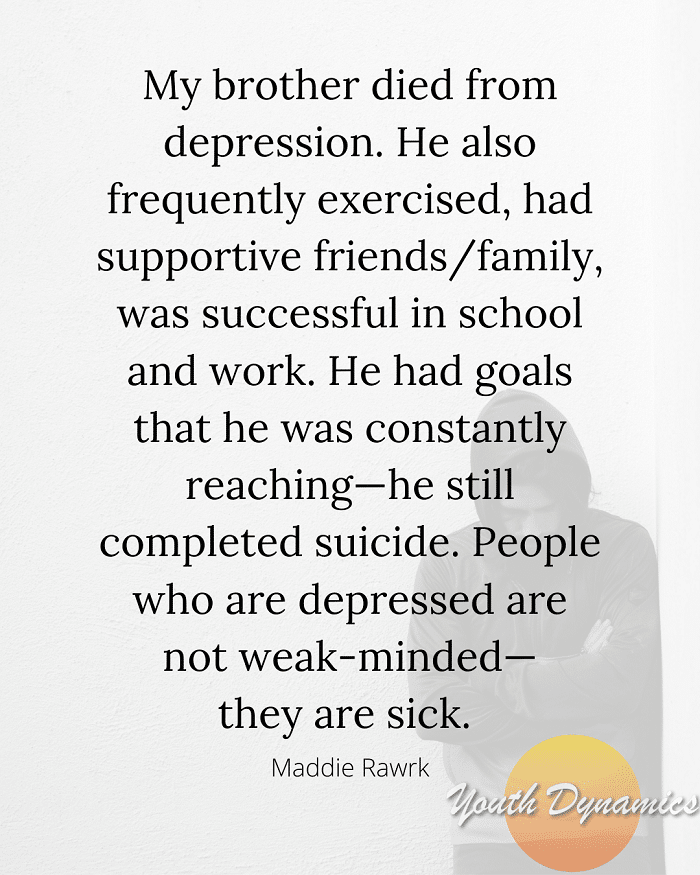 Quote 15: My brother died from depression. He also frequently exercised, had supportive friends/family, was successful in school and work. He had goals that he was constantly reaching—he still completed suicide. People who are depressed are not weak-minded—they are sick – Maddie Rawrk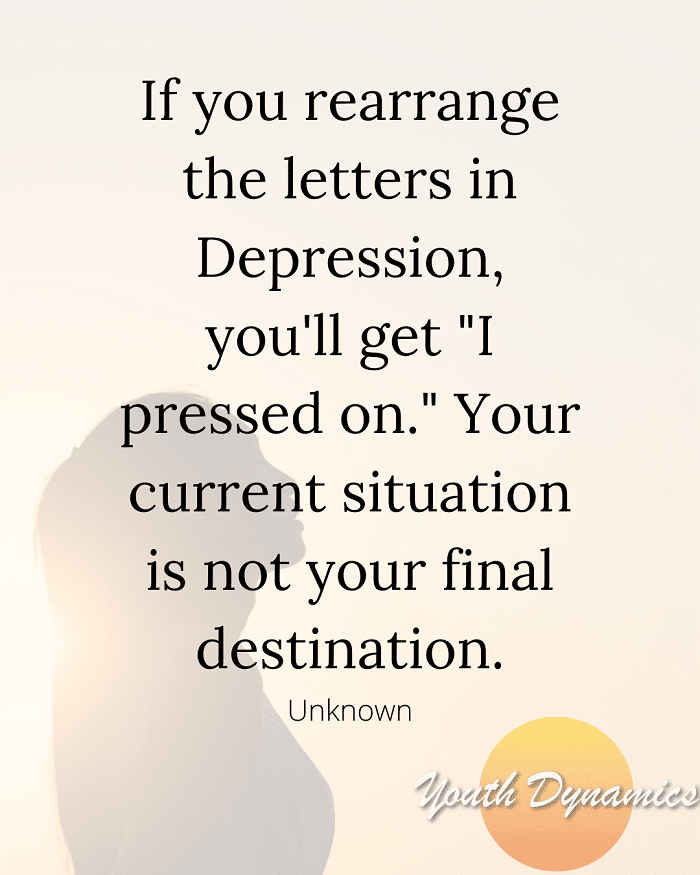 Quote 16: If you rearrange the letters in Depression, you'll get "I pressed on." Your current situation is not your final destination. – Unknown
Are you struggling?
If you're having a hard time, know that there are people out there who care. Reach out to a friend, family member, or seek out a mental health professional.
If you're in crisis, here are a few resources to help:
If you live in the United States, call the National Suicide Prevention Lifeline by dialing 988 or 800-273-TALK (800-273-8255). They have trained counselors available 24/7. Stop a Suicide Today is another helpful resource.
Befrienders Worldwide and the International Association for Suicide Prevention are two organizations that provide contact information for crisis centers outside of the United States.
Do you know a child who needs help?
Youth Dynamics provides a wide range of wraparound mental health services designed to help kids heal. Contact us online, or give us a call at 1-406-245-6539 to learn more.
Want More?
Check out the rest of our blog, and make sure to follow us on social media. You can find us on LinkedIn at Youth Dynamics of Montana, Instagram at youthdynamicsmt, and Facebook at Youth Dynamics of Montana & People of Youth Dynamics.