What's Cookin' in Helena? Ask Mike McLane…
by
I sat down with Mike McLane, area manager of the Helena community services office, on an unseasonably warm day last November. He exudes the air of unflappability that those who have been in social work for a long time tend to acquire. Mike began working with Youth Dynamics 2006 as a group home counselor at Opportunity Group Home in Boulder. He worked in Boulder on and off for a total of 5 and a half years in a variety of positions, from counselor to group home manager.
About a year ago, Mike decided he was ready for a new challenge. "I knew our stuff," he says of the group home, and was ready to learn something new.
The Triumphs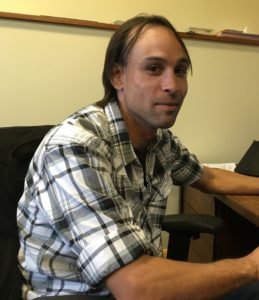 In 2012, Youth Dynamics expanded the community-based mental health services to reach the Helena community. A year ago, the community services office in Helena had a 1/2 time youth case manager and 1/2 time therapist. Today, the Helena office consists of an Area Manager, full time therapist, and a hard working 3/4 time case manager. Mike points to building a full time therapist position over the last year as one of his major achievements.
He and his team work hard to form partnerships with schools, social services, and other mental health providers. Through partnerships the team wraps around youth in the community and promote resiliency and recovery from mental health issues.
In the office, the team keeps the channels of communication open so they are able to go to each other with problems. Mike's personal philosophy is to "keep in mind the caring and compassion we believe in" as an agency.
The Challenges
When asked about what his biggest challenges are in leading the Helena Community Services office, Mike listed two things.
First is the challenge of being the manager of such a small office. Mike often ends up wearing multiple hats and filling in too many roles. As the Area Manager, he is often on the go making connections with other agencies and meeting families. In addition, he steps into help other programs in the office succeed. He coordinates the mentoring program, helps provide in home support to families, and provides support for the foster care program.
The second challenge Mike and his team face is educating the community that Youth Dynamics in Helena offers more services than therapeutic youth home services. Most people know that Youth Dynamics in Helena has an equine therapy program and the Lewis and Clark Youth Home. But there is also a team devoted to providing therapeutic services to youth and families in the community. The Helena team is diligent about getting families services as soon as they need them and where they need them. The team does not put families on a wait list for services and they are constantly on the go meeting families in their homes, at parks, or in schools.