Depression is heavy. If you've experienced it, you know just how significant its weight can be—and bearing the burden of that load? Far too many will carry it silently due to shame and stigma. But that doesn't need to be the case.
Surveys show that over 40% of Americans are grappling with depression or other related mental health symptoms right now. Really, a number that's not surprising given the grief and trauma that's affected so many of us over the past year.
That said, it's about time we start a conversation on the topic. We can save lives by making it easier for those suffering to reach out for help.
So, without further ado. Here are thirteen of our best quotes to raise awareness and illustrate depression.
Quote 1: A human being can survive almost anything as long as she sees the end in sight. But depression is so insidious, and it compounds daily, that it's impossible to ever see the end. – Elizabeth Wurtzel
Quote 2: It's so difficult to describe depression to someone who's never been there because it's not sadness. -J.K. Rowling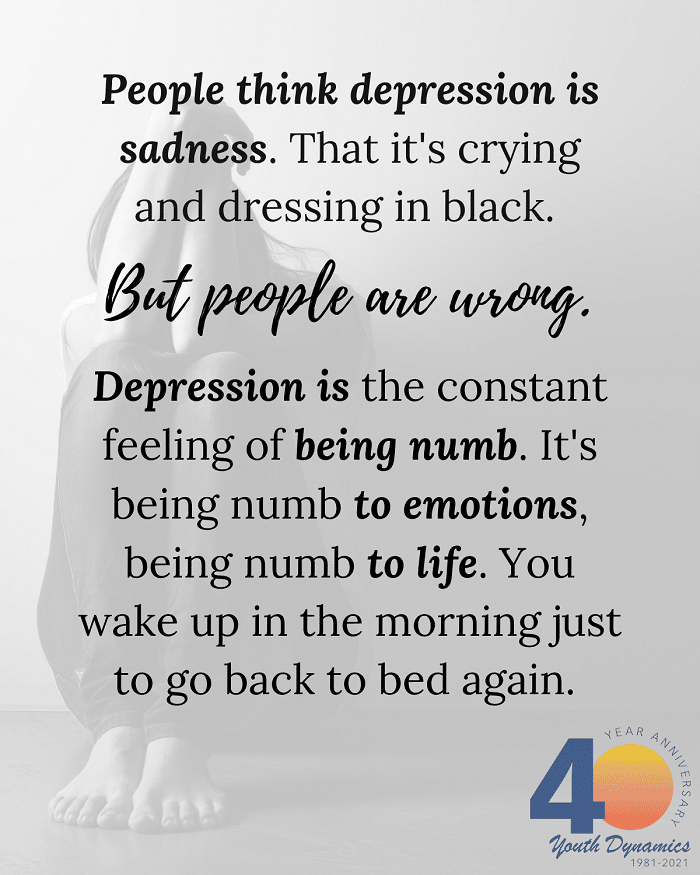 Quote 3: People think depression is sadness. That it's crying and dressing in black, but people are wrong. Depression is the constant feeling of being numb. It's being numb to emotions, being numb to life. You wake up in the morning just to go back to bed again. – Unknown
Quote 4: You don't understand depression until you can't stand your own presence in an empty room. – Unknown.
Quote 5: Having anxiety and depression is like being scared and tired at the same time. It's the fear of failure but no urge to be productive. It's wanting friends but hating to socialize. It's wanting to be alone but not wanting to be lonely. It's caring about everything, then caring about nothing. It's feeling everything at once, then feeling paralyzingly numb. – Unknown
Quote 6: If you feel everything intensely, ultimately, you feel nothing at all. – Elizabeth Wurtzel
Quote 7: There are wounds that never show on the body that are deeper and more hurtful than anything that bleeds. – Laurell K. Hamilton
Quote 8: Depression is like a heavy blanket. It covers all of me, and it's hard to get up. But there's comfort in it too. I know who I am when I'm under it. – Unknown
Quote 9: I wanted to talk about it. Damn it. I wanted to scream. I wanted to yell. I wanted to shout about it. But all I could do was whisper, "I'm fine." – Unknown.
Quote 10: Sometimes, all you can do is lie in bed and hope to fall asleep before you fall apart. – William C. Hannan
Quote 11: Depression is living in a body that fights to survive, with a mind that tries to die. – Unknown
Quote 12: It's not always the tears that measure the pain. Sometimes it's the smile we fake. – Unknown
Quote 13: I think the saddest people always try their hardest to make people happy because they know what it's like to feel absolutely worthless, and they don't want anyone else to feel like that. – Robin Williams
Are you struggling?
If you're having a hard time, know that there are people out there who care! Reach out to a friend, family member, or seek out a mental health professional.
If you're in crisis, here are a few resources to help:
If you live in the United States, call the National Suicide Prevention Lifeline at 800-273-TALK (800-273-8255). They have trained counselors available 24/7. Stop a Suicide Today is another helpful resource.
Befrienders Worldwide and the International Association for Suicide Prevention are two organizations that provide contact information for crisis centers outside of the United States.
Want More?
If you found this article helpful, check out the rest of our blog today and make sure to follow us on social media. You can find us at youthdynamicsmt on Instagram, or Youth Dynamics of Montana and People of Youth Dynamics on Facebook.